National Trust Community Groups
---
National Trust values the connection with communities across Queensland. We invite you to volunteer and join one of our Community Groups who are active in your local area. Please click the link below to see our current list of active groups.
Why Community Groups are Important to National Trust and to Queensland?
We are a charity and as such we must fulfil our charitable purpose which is to promote and advance the conservation, protection and understanding of Australia's natural and cultural heritage, including the heritage of Australia's First Peoples, for public benefit and education. To help us to fulfil our charitable purpose, education is of utmost importance– particularly in engaging with our younger generations and via the activities of our Community Groups.
The purpose of National Trust Community Groups is to assist with the work of:
Driving new National Trust Queensland memberships
Building the National Trust Queensland brand in the regions through positive and engaging activities
Assisting with event coordination in the regions
Using local knowledge to build relationships in the regions, and establish relevant community organisations, partnerships, and potential supporters.
To highlight any local heritage issues or opportunities to the CEO.
Benefits to you!
Join a group of passionate, like-minded people who have a focus on promoting the important mission of National Trust Queensland. You will be able to engage with other volunteers in developing and delivering activities that make a difference, learn new skills and enjoy social events and activities. Plus, we welcome all registered volunteers into our NTAQ TEAM program which provides you with a number of free and discounted offers across National Trust Queensland properties and partners.
National Trust Queensland currently has over 650 volunteers working within various programs throughout the State. We are experienced at managing volunteering programs and understand that volunteering works best when we provide you with a volunteering environment that is enjoyable, respectful, harmonious, and productive. Therefore, we ask that all our Community Group members uphold our 4 core company values of Welcoming, Efficiency, Safety and Fun as outlined in our WINGS OF SUCCESS framework which defines acceptable and unacceptable standards.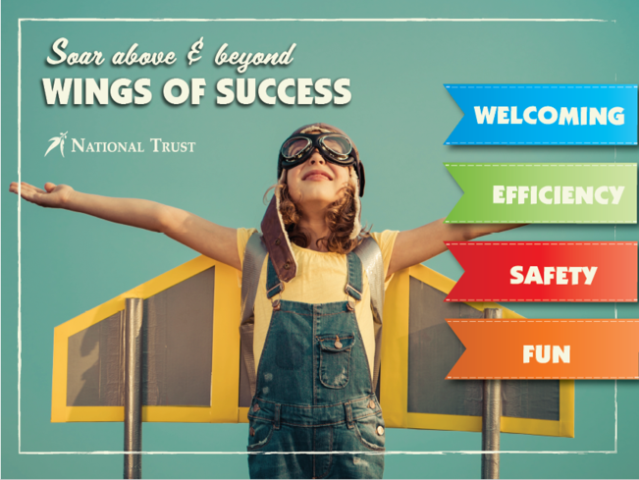 We invite you to register your interest if you meet these criteria:
You are aged 18 years and above
You have a passion for the culture, conservation, environment, and heritage of Queensland
You are upbeat, helpful, and have an optimistic attitude with a proactive and innovative mindset
Have courteous communication abilities and able to work effectively within a group setting
Are willing to comply with our company values, code of conduct and volunteer program guidelines
You must have a mobile phone, and email address and be willing to use our Volunteer Management software.
Generally, you will need to make a regular commitment, however, determined by the tasks and needs of your local Community Group, flexibility is also key!